This weekend marks the biggest shopping days of the year.  Black Friday, a day synonymous with big discounts and even bigger crowds when retailers open their doors before sunrise, is generally regarded as the official beginning of the holiday "shopping season."  More recent trends, like Shop Small Saturday and Cyber Monday, offer shoppers an early opportunity to check-off a good portion of their gift list.
"Black Friday" may sound like a daunting, negative term, but its meaning refers to a positive time for retailers.  It is typically the day that stores go from the "red" to the "black" and begin to turn a profit for the year.  Shop Small Saturday started in 2010, and unlike Cyber Monday and Black Friday which are both prominent with large retail chains, Shop Small Saturday focuses on unique, local businesses.  Whether you're more inclined to brave swarming crowds on Black Friday or browse local retailers on Shop Small Saturday, (or maybe both) Costa Mesa has the perfect shopping destination for you.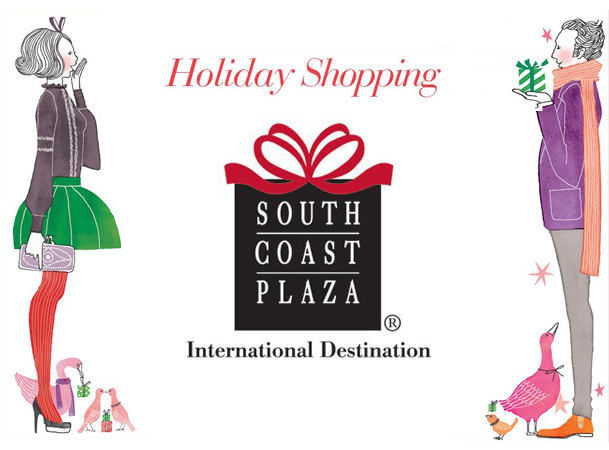 South Coast Plaza in Costa Mesa is one of the largest and most popular shopping centers in the United States. With over 250 luxury and designer labels, South Coast Plaza's abundance of boutiques beckons swarms of shoppers year round.  The number of shoppers grows exponentially during the holiday season, especially the day after Thanksgiving.  To accommodate the influx of deal seekers, the shopping center hours are extended to 8am-10pm, with some stores opening earlier.  Shoppers can expect some discounts and deals that Black Friday is known for, except at South Coast Plaza, the busiest shopping day of the year is called "Fab Friday." For specific store hours, visit SouthCoastPlaza.com
We want to see your pictures from Black Friday at South Coast Plaza.  Tweet your pictures to @TravelCostaMesa using the hashtag #BlackFridaySCP for a chance to win a pair of tickets to The Wizard of Oz at Segerstrom Center for the Arts on February 13, 2014.
Shoppers at the LAB on Black Friday can enjoy a free cup of black coffee from Cafecito Organico from 7-10am while shopping.  The Gypsy Den will also be giving away free coffee.  If you're up early, take advantage of the free perk-me-up from The Gypsy Den or (and) Cefecito Organico.  If you're shopping at the CAMP, Blackmarket Bakery and Vitaly will be serving free black coffee on Black Friday.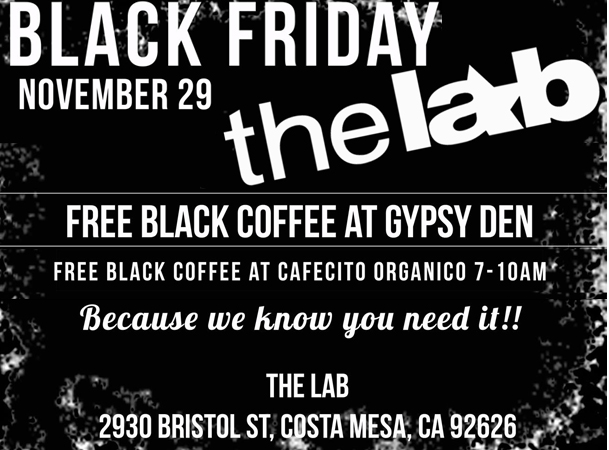 The OC Mix, The LAB and The CAMP all feature Shop Small Saturday deals and discounts.  Each center has a unique, eclectic mix of local retailers and artisans which makes them excellent destinations for shoppers who have diverse gift lists. Whether you're shopping for that DIY enthusiast and interior designer at Heirlooms and Hardware, fashionista at Deer Lovely, Eva's Trunk and Denim Bar or coffee lover with deals at Portola Coffee Lab, The OC Mix has what you need.  Shopping for a baby? Smocking Birds Baby Boutique is offering 20% off the entire store.  See the complete list of participating shops and deals at the OC Mix here.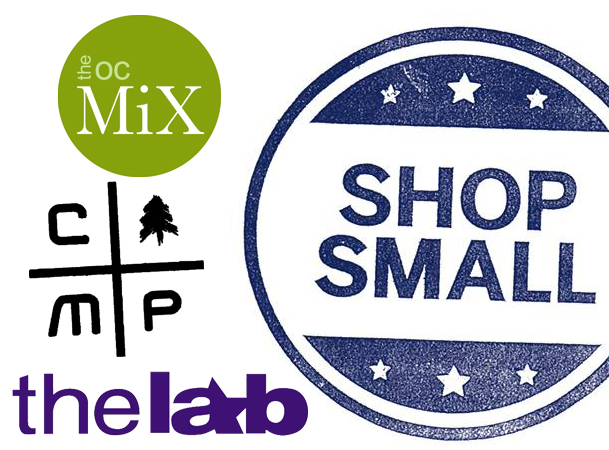 If you're shopping for Shop Small Saturday at the OC Mix, the LAB or the CAMP, take a picture and tweet to us at @TravelCostaMesa using the hashtag #ShopSmallSaturdayCM for a chance to win a pair of tickets to The Wizard of Oz at Segerstrom Center for the Arts on February 13, 2014.  Happy shopping!  We're looking forward to seeing your pictures on Twitter!